Living a healthy life and earning enough money to do the things you love can be slightly laborious for a lot of people. However, it is one of those investments, everyone should consider.
Every human is bound to make mistakes when it comes to healthy living and earning money. But even the minutest of change in the way humans carry on their day to day activities can bring about a lot of improvement, benefits, and rewards in the long run so I can see why people look to start a new job in the health and wellness niche.
Within this review of Prime my Body we are going to take a look at the Multi Level Marketing company that looks to employ people to sell their various health and wellness products where you gain commission for every product that you sell. So, is Prime my Body a scam looking to unethically take money from people or is this a legit method for making some extra cash?
What is Prime my Body?
Headquarters in Las Vegas, Nevada, Prime My Body is a great example of a Multi-Level-Marketing (MLM) company that caters to the needs of health, lifestyle and wellness. Their main objective is to make people aware of the benefits of living a healthy and clean life. Their wellness programs are projected towards bringing well-being to the body and minds of its customers.
The company is run by Paul Rodgers who was once the owner of CieAura MLM which is now completely gone. To be honest this is the first warning sign.
The products and services they offer range from Nutritional Supplements and Beauty products to giving multi-level marketing business opportunities. The main reason, which makes Prime My Body a commercially driven and acclaimed corporation, is the marketing strategies they have adopted.
If you are wondering what exactly a MLM company is I'll briefly fill you in. MLM companies don't spend any money on marketing or advertising and encourage people to sign up as distributors so they will market all of their products for them and recruit new distributors. By doing so, distributors will gain commissions for every product they sell and every new distributor they recruit.
At first glance this may seem like a good opportunity but like most MLM schemes only the top-level members actually succeed and the majority are set to actually lose money!
This company was founded in 2009 and still operates today. As far as MLM companies go this is actually rather good so this indicated that they must be at least doing something right along the way.
Prime My Body Products
Prime My Body offers a wide range of products, which are all hemp-infused. They aim to provide premium hemp and plant-based wellness products that are manufactured with the goal of priming the body and minds of its users.
Some top-rated, hemp-infused products of Prime My Body are:
CALM
Made with organically sourced hemp phytocannabinoids and terpenes and various blends of herbal extractions, they are made to provide its users' relaxation and calmness of the mind and the soul.
BODY THERAPY
An ointment, made out of organically sourced cannabinoids and a combination of botanical extracts, this gel-based product is used to relieve any muscle or joint pain in the body. A great product to provide body recovery and freedom from pains and aches.
NOX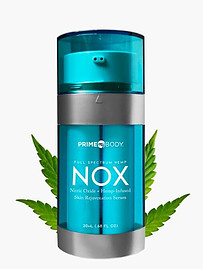 This product is crafted to serve multiple purposes such as restoration of pigmented skin, enhancing skin tone, removal of skin spots and much glowy and youthful skin. The product is made out of a blend of hemp extracts and Vitamin C and Vitamin E.
FOCUS
Mental clarity, wellness of the mind, concentration, stress mitigation, greater focus and freedom from physical discomfort. These are some of the main issues that can be targeted and relieved through this hemp-infused product, offered by Prime My Body.
Prime my Body Compensation Plan
As I said MLM schemes look to encourage members to sign up as distributors to market their products, employee new distributors who will earn commissions as their form of income.
All MLM schemes have slightly different compensation plans so we'll take a closer look to try to uncover if it's actually possible to make money and with that how much.
You can read the full compensation plan if you like but I'll give you a brief overview of it here so you should be able to make a quick decision if you would like to become a distributor for Prime my Body.
To begin you are going to have to part with some of your hard-earned cash to enroll yourself with this company which will cost you $39 per year. Not massive amounts but unfortunately this is not all you are going to have to buy but we'll get into that soon.
The compensation plan is made up of different tiers but you will need to maintain monthly orders of over $100 every month to even qualify for their compensation plan. Considering that all the products sold by prime my body are not far off the $100 mark you will only need to make a few sales to qualify but you'll only be earning around $50 commission if this is all you are selling.
Affiliate Ranks
This is the rank you will build up as you sell products and recruit more members. The more you sell and the more people you recruit the higher rank you will become which will mean more earning potential.
There is 10 different ranks you can achieve that will see you earn more money the higher you progress. By reaching "Black Diamond" the member would need to recruit and maintain 15 commission qualified affiliates, maintain 8 retail, customers, and earn $100,000 in residual binary commission a month.
Seems great right? But in theory this is extremely difficult and in theory many people will find it difficult to break the first few ranks so don't be fooled.
Recruitment Structure
Like all MLM the recruitment commissions and structure will be how you make most of your income – if you actually manage to recruit anyone. The recruitment structure at prime my body looks like the following.

This structure will include you at the top of the team and any individually you personally recruit put onto the first level than any affiliate recruited by them placed on the next level which can continue endlessly.
However even though it can continue endlessly you are only going to get paid commissions for the first seven tiers of your generated team.
How much you earn on each level is determined by what rank you are but the maximum you will receive is 20% on level one which gets gradually lower for every level under this. Not great right?
This is all an extremely simplified breakdown of the full compensation plan provided by Prime my body and if you are still interested in this opportunity to earn money I'd definitely suggest you take an in-depth read at the plan or watch the video below.
More than likely you will decide that the chances of you actually making any substantial income are very slim with the business model of MLM and the compensation plan provided.
Is Prime my Body a Scam?
In theory no prime my body is not a scam but they do try to sell a widely unachievable dream.
There is definitely the possibility to earn some extra income per month but the time and effort required to start making money will be substantial and the rewards you see will be below average.
The income potential is not great and there isn't much proof that many people are earning any decent income.
The products you will be promoting with prime my body are within a crowded niche as everyone tries to jump on the bandwagon of CBD infused products. The price tags on these products are also extremely high which will make it far more difficult to convince people to try these products.
My Number One Recommendation for Earning a Full-time Income Online
OK so I'm sure you can now see that MLM and Prime my Body are definitely not the best method for earning money. Lucky for you I've got an extremely exciting opportunity to show. I believe that affiliate marketing is single handedly the best method for learning how to make money online and the risks are far lower than giving MLM a go.
Even though Prime My Body is a self-proclaimed Multi-level marketing company, the basis of which is very different from an affiliate marketer, they promote their programs by using the term affiliate. Their business structure and model is also based on the schemes of an affiliate marketer.
Here are a few major differences between Multi-Level Marketing and Affiliate Marketing:
– In a Multi-Level Marketing company, there is the objective of constantly recruiting new members into the organisation and providing them full training in order to replicate the structures of the program. This is similar to a pyramid structure.
– In an Affiliate Marketing, the main purpose of the program is to sell the products and target as many audiences as possible, without the burden of recruiting new people to the program.
– The main area of the issue in a Multi-Level Marketing program is the fact that the majority of manpower is put into completing the process of recruiting and training new members, rather than selling the products. This hampers the overall growth and compensation plan for the corporation.
– Multi-Level Marketing is based more on teamwork and strategies. Whereas, in an affiliate marketing structure, individual transactions and businesses take place. There is much more freedom and the factor of depending on a team is removed.
– Both physical and non-physical products can be sold in an affiliate marketer. But, the rate of commission received by an affiliate can be far greater in comparison to the commission received by a member of the multi-level marketing structure.
– Products can be scaled on a higher level in Affiliate marketing because there is no need to recruit more members into the structure and teach them the art of duplication. There is only individual marketing involved in affiliate marketing through free advertising and the attraction of as many clients as possible.
Affiliate Program Under Prime My Body
The tool of Affiliate Marketing is used, as a part of their marketing strategy, by Prime My Body. This is a great implementation, that helps in attracting more customers and clients, through an affiliate network that is set up by an affiliate.
An affiliate has to perform the function of promoting and selling a product, through various links, provided by the company, which helps them get amazing incentives in the form of passive incomes. They also enjoy various commissions that are awarded to them by the merchant or the company.
The best part about affiliate marketing is the fact that it attracts a huge audience and a huge level of traffic on its products, through various discounts and offers, without any compromise on the quality of the products.
Various hump based products offered by Prime My Body has successfully catered to a large audience because of their authenticity and commitment to the brand. The affiliate marketing strategy endorsed by them is yet another plan to amplify the products and selling of their products in order to achieve a lucrative result in the market.
The process of becoming a Prime My Body affiliate is through purchasing the Business Centre program offered by Prime By Body, at a cost of $39, on a yearly basis. This program gives access to various benefits, which includes:
– Exposure to online marketing tools.
– Access to personal business centres.
– Acquaintance with a replicated website.
– No separate purchasing of the products is required.
– Become an advocate of their products, sell them in order to get a small commission in return.
What is Wealthy Affiliate
Wealthy Affiliate is a great platform, built with some of the most well-established principles and tenets when it comes to affiliate marketing. Wealthy affiliate is designed in order to cater to the needs of marketers that come from different levels of knowledge. From novices, in the field of affiliate marketing, to well-established veterans, wealthy affiliates have something to offer for all.
They have been in business for over 15 years, and are based in more than 100 countries, across the world. More than 10,000 new businesses are built within wealthy affiliates, on a monthly basis.
Wealthy affiliate is a great platform to begin an online business that can yield profitable and sustainable results in the long run. They provide enough mentor-ship and support, throughout its program, who help in generating a good business model.
They offer its users to create successful business opportunities, online, from over 1,000,000 different niches, helping in converting their ideas into successful and profitable returns.
The process of creating a separate website for each of its customers, within a few minutes, is a very important factor and opportunity that is offered by wealthy affiliates. The hosting of the websites is powerful and fully safe and secure.
The customers can learn the art of attracting new clients and customers, which is the most important part of an affiliate marketing structure. Without a heavy audience, the whole model of affiliate marketing can collapse.
The users can choose from over 600 million products and services, offered by a wealthy affiliate. They can further promote these businesses and products, for absolutely free and also enjoy a commission on behalf of wealthy affiliates as a gesture of goodwill.
Wealthy Affiliate offers two affiliate marketing course programs, a starter program package, and a premium program package. A starter program package is great for beginners in the field of affiliate marketing, who have just started to explore the field of online business. This program is offered for absolutely free and comes with a couple of features.
The premium program package is available at a cost of $49 per month. They are great for people who are already accustomed and comfortable with the functions of affiliate marketing and want to use wealthy affiliate as a platform to further grow and expand their affiliate marketing businesses.
Choosing Between Wealthy Affiliate and Prime My Body
Prime My Body is a multi-level marketing business, which offers a few products to its distributors and affiliates to promote or sell.
They claim to offer an affiliate program through purchasing a business centre at a cost of $39, annually. Compared to other affiliate programs available in the market, which are much cheaper and most of them are also provided for absolutely no fee at all, the program offered by Prime My Body seems like a fraudulent scheme.
When compared to programs like a wealthy affiliate that offers numerous services and benefits and offers to its users to sell and distribute, over 600 million products and services, Prime My Body, seems like a second choice. Some benefits offered by Wealthy Affiliate, which are absent in the Prime My Body Affiliate Program are:
– Absolutely free for people who are new to the field and want to purchase the starter pack.
– Live online help service available for 24*7.
– Access to more than 1000 training modules given.
– Has a Core Certification Course that offers above 50 lessons on affiliate marketing strategies.
– Step by step training provided by some of the most learned mentors and advisers in the field of affiliate marketing.
– A private coach is available.
– 24*7 chat support available.
– Free websites and domain platforms are available.
– Access to weekly live webinars.
– A large community, which is very engaging, motivating and supportive.
Conclusion
One of the best parts about platforms that offer affiliate marketing is the fact that it helps in providing financial independence to its users from a very young age.
Millions of affiliate marketing tools, platforms and websites are available on the internet. Each comes with its own set of benefits and shortcomings. Each has its separate marketing strategies and policies that make it different from each other.
When it comes to Prime My Body, the products and services offered by it may seem legit to some and a scam to some. The important factor to note is that they offer products that are exorbitant and may not be easily accessible by a larger group of people.
Their industry and marketing strategies are also pretty unregulated and may not be profitable and rewarding in the long run. So even though the company is fully legitimate and so are its products, the earnings received by it are uncertain.
However, for some, it may seem as an approachable business plan who is keen on the idea of selling fewer products, which makes it easier to manage the overall business. Also, the hemp-infused products, that are beneficial to the health of its users are in high demand and come with various benefits. This helps in attracting a large audience base who is ready to experience the same.
In comparison to Prime My Body, considering the number of services and benefits Wealthy Affiliate has to offer, and that it also taught to most fundamental concepts of affiliate marketing, providing maximum results with minimum outputs, wealthy affiliate seems like an effective business plan that can yield lucrative results and profitable returns.
Recommended Reading