The dream of earning money from home on your own schedule appeals to the majority of people today and for good reason, but is it really possible to replace your income from working from home and escape the 9-5 week? Yes actually it really is possible for near enough anyone.
I believe that anybody can be successful at earning some extra income online if they are willing to put the effort in and learn a new skill.
Don't get me wrong earning money online from home is not easy depending on what method you opt for.
There is no secret "recipe" to become an overnight millionaire and you will effectively be starting your own business which take a LOT of work and it all boils down too how much you actually want it.
So I'm assuming you are here because you want to find out how to earn good money online from home.
There are many possibilities to earn money online but I will mainly be focusing on the methods that have the potential to earn some serious money that one day can replace your existing income whether it be $500 or $10,000 per month so ill give you a quick run down of some methods that you can use today.
Affiliate marketing
Ok, so the first method and I'd say the most appealing to the majority is affiliate marketing which takes next to no investment to really get started. Chances are you've never even heard of it but after this you'll certainly know the basics.
So what exactly is it? Well affiliate marketing is a
"marketing arrangement by which an online retailer pays commission to an external website for traffic or sales generated from its referrals"
So in basics terms affiliate marketing is directing potential customers to an established website through an affiliate link, such as amazon, and if the customer makes a purchase through your website you will earn a commission.
The main way to do this is by starting a blog in a specific niche that will provide posts such as an information post, review posts and guides. For example a dog lovers website where you can write posts such as information post on types of dogs, guides on how to trim dogs nails properly and reviews of products such as pet toys, beds and leashes.
The review posts will be the main chance for you to insert links to the external suppliers site where the customer can purchase the product you have recommended and as said before if they make a purchase you will receive a small commission.
Of course dog products are relatively cheap so the commission earned will be small therefore building this into a sizeable income will take a lot of work.
Sounds easy right? Well ye the process is fairly simple but one of the major problems is actually getting your posts on the first page of google where potential customers can see you website and post once they enter specific "keywords" into google relevant to your post.
Writing and ranking content is the main building block of your website and you will need to learn the skill of "search engine optimization" or SEO for short.
I could write about SEO for hours but that's not what you're here for so if you think affiliate marketing could be something for you then I highly suggest checking out my review on wealthy affiliate.
Wealthy affiliate is a website that will teach you how to start your own affiliate business through step to step tutorials for only a small monthly fee and you can even get your first month at a reduced rate of only $19.
There truly is no other affiliate marketing on the internet today that provides as much value as WA and it is in fact where I started.
If you want to learn more about affiliate marketing have a read at our more in-depth affiliate marketing guide.
Drop Shipping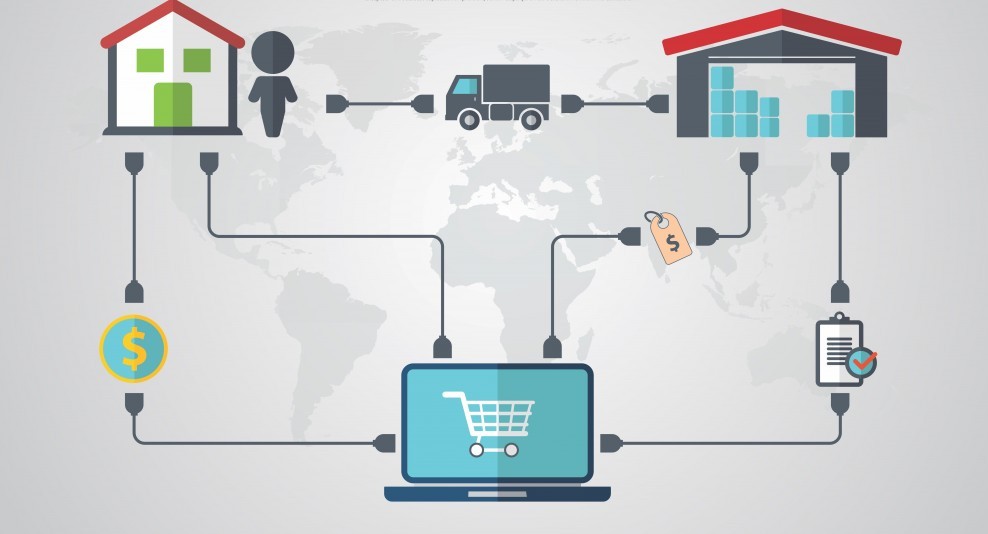 Dropshipping is another method to make some good money online from home which has really blown up in the past few years but unfortunately you will need to make an investment of around $1000 for ads to really give yourself the best chance of becoming successful.
Ok, so what exactly is it? Well a drop shipping business is where the business does not keep any inventory so when a customer makes a purchase through your ecommerce website you purchase the item from the supplier and they ship the product to the customer without you ever seeing or handling the product.
The main way to do this is by setting up a store with shopify which is extremely simple and can be done in less that an hour even for complete beginners.
The next step is to install the oberlo app on your site which you will use to import products from aliexpress which is an online store which links you with suppliers in china that actually has a higher order quantity exceeding both amazon and eBay.
Once you have products on your store you will need to write product descriptions and ensure your store looks professional before directing any customers to your site through paid advertisements mainly from Facebook or google.
Once a customer makes a purchase through your site you then fulfill their order through aliexpress and the product is shipped directly to the customer.
Of you will need to price your product at a cost to cover the cost of the product and also high enough to cover advertising fees which are not cheap and still leave some room for profit.
Is drop shipping easy? No far from it. You are essentially building your own business and brand and there is a lot of factors that come into play in order for you to become successful and make any sort of profit but once you have mastered the skill of drop shipping the potential for growth really is massive.
If you are seriously interested in giving drop shipping a go I would recommend Franklin Hatchetts ecom elites course that you can get for the reasonable price of X that will teach you everything you need to know from starting your store to making some serious money.
How does an extra $10,000 a month sound or even an extra $100 per day with minimal work after you are set up?
Online Surveys
Another method you can try your hand at is taking online surveys to earn some extra money in your free time. Unfortunately with this method the chances to make some life changing income is not really possible as the money paid for taking a survey is very small but if you are willing to take the time there is possibility to earn an extra $250 per month.
Be careful there are many survey sites that are not legitimate and won't actually pay you anything at all so ill provide two of the best sites below. All the sites have a limited number of paid surveys per month so sign up too few to give yourself the best chance at making some extra money.
The number one site for paid surveys is Swagbucks and they are definitely the most reliable as they have so far paid out a massive $600,000,000 in rewards so why not take a small piece of that? They offer rewards for playing games, taking offers, searching the web, making online purchases and watching videos. Easy right?
If you are interested about learning more about Swagbucks and you are wondering how money you can actually earn have a read my post where i put it to the test for 4 days to show you how much money you can actually make.
Surveys take around ten minutes and you can earn around $6.50 per hour. Nothing massive but it can be the start of your journey of making money online.
The second best website in my option and from the masses of reviews is Toluna. They work on behalf of leading companies to find out you, their potential customers, think of their products services and issues and in return pay you rewards. With Toluna their is the potential to earn over $5 per hour.
Starting a blog
You can even try your hand at starting a blog and writing about something you are passionate about to attract visitors to your site. Before we start it is essential you keep in mind that making money from a blog is not an overnight thing and it could take months to set up a website, build an audience who trust you and write enough content to bring a decent amount of traffic before any money can be made.
When you start a blog there are many ways in which you can start to generate an income which include money from google adsense, adding affiliate links which we have discussed at the start of this post, writing and offering ebooks to your visitors and you can even offer coaching on the subject you are writing about.
Starting a blog obviously must start with creating a website. Sounds scary for beginners but creating your first website is actually really simple.
The best place to find hosting for your website is to visit bluehost who offer hosting for as little as $3 dollars a month which will give you access to a free domain name which is your website address and also you will be able to install wordpress which you will use to run your website.
The main focus of a blog is obviously writing engaging content that will show up and rank on the first page of google search. This requires learning the skill of search engine optimisation. If your blogs don't show up on the first page of google then the chances of gaining regular visitors and earning some extra money is next to 0. As I've said previously the best place in my opinion fr learning seo and many other relevant skills is wealthy affiliate. If you are serious about making money online through blogging and affiliate marketing then wealthy affiliate is definitely where you should be starting and I'm sure this can be the start of an exciting journey.
If you are looking for more information on how you can start your own blog have a read at our guide on how to set up your first website with bluehost.
Freelance Work
Freelance work is another great way to start earning money online charging for skills you already have. This can be a method to earn some money online almost right away as you won't need to learn any new skills to get started.
There are many websites that allow you to offer services to millions of users looking for specific work to be completed. The main site for this would be Fiverr which I have actually used many times myself and someone from Fiverr even designed the logo for this website.
Whether it be writing website design, logo creating, SEO writing, video editing, marketing or even game development Fiverr will allow you to offer your profession to the masses.
How money you can earn will depend on the work you are offering. For creating professional logos you can make around $30 on average per logo and for website design you can earn upwards of $200.
If you already have a desirable skill you can start to earn some serious money very quickly with the help of Fiverr.
Transcribing
If you are an experienced typist and have a good eye for detail then you can earn a secondary income from listening to audio and typing what you hear.
Earning good money from transcribing will take a lot of training mainly in typing speed and accuracy but if you are already good at typing this can be significantly reduced.
Rev is one of the main sites for transcribing and you can work from anywhere in the world as much or as little as you want but you can expect to earn from around $4 to $12 dollars per hour of work. Like most transcribing websites you will need to take a test to be allowed onto the program so get practising.
Scribie is another popular choice for beginners and just like Rev you can work from anywhere as much or as little as you like but the pay isn't quite as good as Rev.
To put this to the test i took some time to sign up to one of the transcription websites to see how much money you could actually start to make as a complete beginner so if you are interested you can have a read at the results.
Lets get started
Now that you have an overview of a few of the main ways you can earn some good money online I'm sure you are ready to dive in and earn some money working from home.
Nearly all of these methods will take a lot of time and effort to master and you'll need a lot more knowledge than provided here but I'm sure at least one these methods will appeal to you if you are really serious about earning good money online from home.
If you are looking for ways to earn money that are a bit more beginner friendly and take less time learning then why not have a read at our post on how to make money from typing.
This can be the beginning of an exciting journey into financial freedom and obtaining the laptop lifestyle that many people dream of. If you are looking to start an online business but feel you are scared you will fail then you can have a read at these methods to reduce fear of failure and get started on your new business.
If you have any questions regarding any of the featured topics feel free to leave a comment below and I'll get back to you as soon as possible.