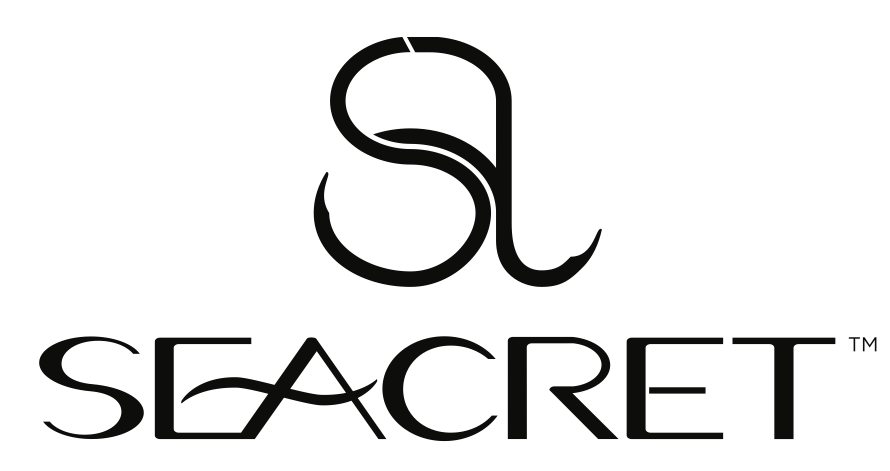 Seacret is another multi level marketing company that's been circulating the internet for many years now with many agents signing up to start their own company in the hope of earning thousands.
This is usually too good to be true!
The massive amounts of MLM companies available today make it extremely difficult for an aspiring business owner to select the company that is right for them that will provide the biggest chance of success.
Within this Seacret MLM review I am going to provide you with all the information you need before deciding if starting a business with Seacret is right for you.
This post will follow the following topics to help you make an informed and correct decision;
What exactly is Seacret?
What is Multi Level Marketing?
Is Seacret a Pyramid Scheme?
What products do Seacret offer? Are they any good?
Seacret Compensation Plan (aka how much will you get paid)
Success Rate of Seacret Agents
Is Seacret a Scam?
Summary of product: Seacret is yet another multi level marketing company in the beauty niche.
They operate slightly different than the masses as they offer fairly unique products infused with "dead sea minerals".
The product range offered is highly thought of by customers which may make it easier to sell but it still seems massively overpriced.
Like all MLM's the compensation plan is complex and made to seem far simpler than what it actually is.
Like most if not all MLMs over 90% of people will fail to make any moeny at all so keep this in mind if you still decide to sign up as a Seacret agent.
Disclaimer: I am in no way affiliated to this company and provide these articles for your educational only. All information is written following thorough research into the company.  
What is Seacret?
Seacret is yet another multi level marketing company selling various beauty products.
The main differentiating factor is that Seacret markets products as being made with mineral mud from the Dead Sea.
A lot of research has been conducted into the benefits of mud from the dead sea for your skin and overall health.
There are various benefits that are associated to this mud due to its unique combination of minerals such as magnesium, sodium and potassium;
Improves Psoriasis
Provides relief from arthritis
Helps treat acne
Various others that we will discuss further through this review
Seacret uses this as the main selling point for product promotion that will lure a lot of people in to purchasing their products; but are they all that they are claimed to be?
Seacret was founded in 2005 by Izhak Ben Shabat and Dani Solomon with a claimed mission to;
"We are building a wealthy global community, serving the world by delivering unexpected results through innovative products, opportunity and inspiration"
They currently have headquarters in Pheonix, Arizona and it is thought they are currently bringing in revenue upwards of $211.5 million. So they must be doing something right. But is it only the company making money or are their agents also profitable? Read on to find out.
Within the "About Us" section of their website it is claimed that "they promise to manage our business with honesty and fairness and are committed to uncompromising integrity in everything they do".
It is rare to see such quotes on MLM companies website due to the fact they are well aware that almost 99% will fail and not make any money in the slightest.
I'll keep this in mind as we progress through this review to really uncover how truthful and transparent they are towards agents.
What is Multi Level Marketing?
If you are unfamiliar with the concept of multi level marketing or MLM then the following information will help fill you in with some of the most important information.
MLM companies offer affiliates or in this case "agents" the chance to market and sell their products through direct sales so essentially you start your own company to become your own boss.
For it to be classed as an MLM the opportunity is available for you to recruit new agents where you can potentially earn commissions from their sales as well.
Unfortunately the business model of multi level marketing is EXTREMELY challenging to succeed within and this report from the "Federal Trade Commission" that 99% of individuals fail to make any money.
Seacret is no different and fits perfectly to the MLM business model so the chance of earning money are very very slim!
That being said though some are worse than other. Some MLM companies seem to push a false dream more than others and some even promote products that have 0 or very little scientific evidence to back them.
I believe Valentus to be one of these companies to stay away!
So although the chances of making money throughout all MLM companies is extremely slim some offer slightly better opportunities than others.
This all comes down to;
What products they have to offer
The compensation plan
How reputable the company is
Thankfully for you all this will be covered throughout so you will be able to make an extremely informed decision if becoming a "Seacret Agent" is for you.
Does this make Seacret a Pyramid Scheme?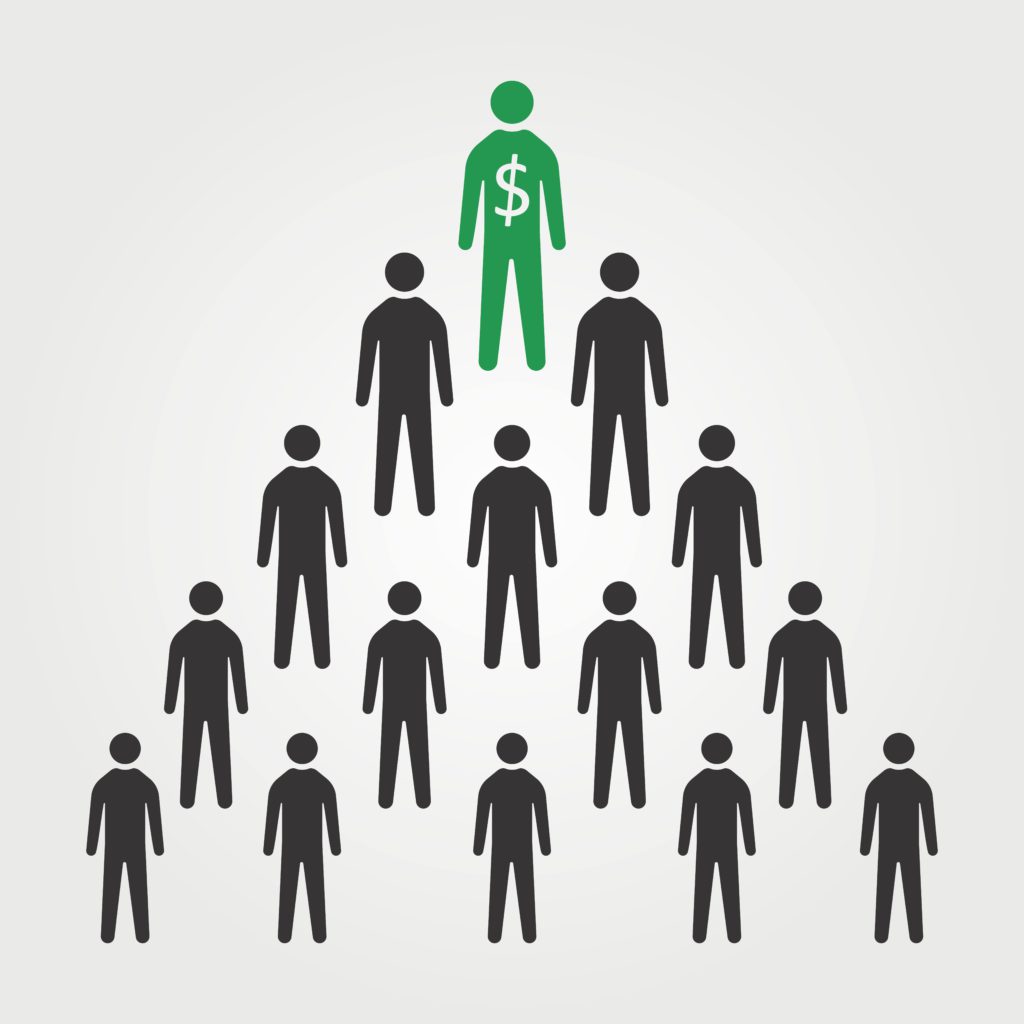 To a lot of people this business model might seem extremely like a pyramid scheme which are actually illegal in many countries.
Pyramid schemes tend to put far more focus on the recruiting aspect and have little to no products that members can sell.
In a lot of cases pyramid schemes add products to try and cover up the true nature of the business.
This will make them seem like MLM companies at first glance but underneath only people you recruit lots of new members earn money.
Due to this any supposed "MLM" companies are shut down quickly by the FTC but considering Seacret has been operating for 15 years it would seem that no, Seacret is not a pyramid scheme.
But be wary! This does not mean you will make money money. In fact, i can almost guarantee you will not!
As mentioned at the start of this review Seacret provide beauty products with a main selling point of the addition of Dead Sea mud.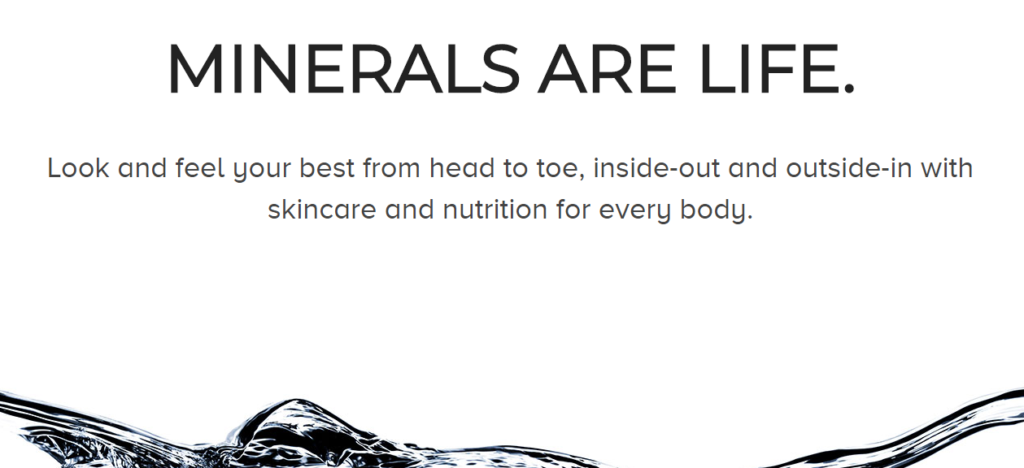 For an MLM to provide the opportunity to earn some money they must have great and reasonable priced products for you to have any chance of selling any.
A lot of companies use shady marketing techniques and sometimes out right lies to push their products onto people.
So is Seacret another example of this or do they offer excellent and reasonable priced products? Lets find out!
Something that strikes me as being rather different to other MLM companies such as;
Is the amount of products that are offered. There are upwards of 90 products that you can purchase and promote when you become an agent in areas such as;
Hair Care
Nutrition
Body Care
Age Defying
Facial Care
This may act as a benefit for selling products as here is products that will appeal to a far larger group of people so your potential market will be greater than with other MLM companies. Does this mean it'll be wasy? NO!
To dive a little deeper into products to evaluate prices and how good they actually can be we'll take a look at some of the best selling products just now.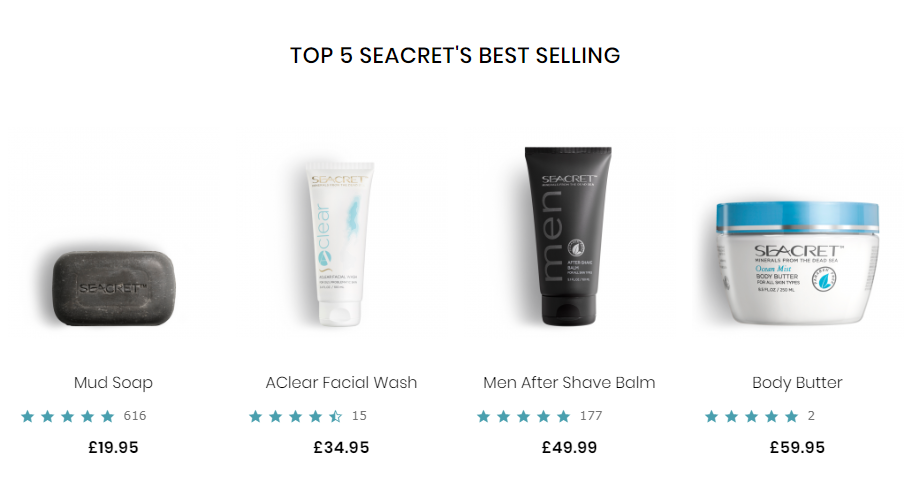 As you can see from the image above the top selling items have quite a large range in price from £19.95 to £59.95. At first glance this seems rather expensive so what exactly do you get for your money and will it be easy to sell?
MudSoap

The mudsoap sold by Seacret is made to gently cleanse  the skin for a healthy glow and at a price of £19.95 125gr you would definitely be expecting a long lasting "glow". So is it worth the money?
The soap is made up from a list of a few ingredients including;
Elaeiis Guineensis Kernal Oil
Maris Limus Extract (Dead Sea Black Mud)
Aqua,
Sodium Chloride
Hamamelis Virginiana Extract
Maris Sal (Dead Sea Minerals)
One benefit Seacret have is there long lists of positive reviews. This mud soap alone has a 5 star review of 616 "verified buyers" so many people must think it is definitely worth the money.
Having positive reviews from other customers and people who already value the products available could definitely work in your favour if you decided to sign up as an agent for Seacret.
More often than not products sold by MLM companies are extremely over priced and comparisons can be found for a fraction of the price.
In this case that is 100% correct. A quick google search for "Dead Sea Mud Sap brings up plenty of alternatives for as little as £4.29 at Holland and Barrett for a product with extremely similar ingredients.
AClear Facial Wash

The next product is a facial wash that is said to be effective at washing away bacteria and impurities that may cause acne. For a price of £34.95 you really would be expecting miracles but does it really work?
Once again the reviews seem to be positive but are these reviews from agents purchasing to sell or real customers? We'll never know.
As I am far from a professional in skin care it is near impossible for me to tell you how well this product will work but we can look for similar products on the market to see if the ones sold by Seacret are overpriced. My guess is yes they will be!
There is many products on the market that incorporate minerals from the dead sea to treat acne all for a fraction of the cost at around £8-15.
However, none have similar ingredients to Seacrets products so it is very difficult to say if they are 100% comparable. The customer reviews are largely good for this facial wash with a lot of claimed good results.
So this products might actually be not half bad and not too overpriced which could make it quite easy to sell to people to earn some money with the MLM.
Men After Shave Balm

The next product is an aftershave balm for men that can be bought for £49.99 for 150 ml. The 177 positive customer reviews indicate that this product must be not too bad at all.
The balm has a long ingredients list that include various "dead sea minerals" and vitamins.
The amazon reviews of this product also tell a similar story that the product "is expensive but great" and is refreshing after a shave and helps to stop razor burn.
It seems everybody is well aware that this product is expensive but still choose to buy it any so this is a massive positive.
Body Butter

The final best selling product we are going to take a quick look at is the "Body Butter" which at £59.95 is the most expensive of the 4. This body butter is to be used for moisturising to provide "long lasting hydration". Don't all moisturisers say that? I think so.
Once  again the reviews section is flooded with positive reviews which is actually rather rare for MLM companies.
By jumping over to Amazon to make sure the majority of these are not faked the reviews seem the same.
A lot of people acknowledge the high prices but still buy the product. This shows that the products at Seacret must be doing something right compared to the many MLM companies that sell below standard products.
Products Summary
All in all it seems that Seacret offer a great selection of products that their customers seem to stand by and love.
Do their products seem overpriced? Absolutely!
But this fails to matter if customers are willing to continuously buy the product from you.
Having good products on hand to sell as a Seacret agent can marginally increase your chance of successfully making some money but it still  does not make it easy.
Depending on how the company will pay you commissions also has a massive effect on how much money you could make with the Seacret MLM.
So let's take a look at the compensation plan!
Seacret Compensation Plan

As with all MLM companies their compensation plans are always long winded, complex and generally make it extremely hard to make a lot of extra money. I'll give a brief overview of the plan and you can read more of the full document if you wish.
The first few lines of the compensation plan document are very misleading;
"As a SEACRET Agent, there are no complicated strategies to learn
in order to achieve your financial goals. SEACRET provides Agents
with the right tools, training, and support to earn a residual income.
All you have to do is simply share our innovative Dead Sea skin
care with your friends, family, and colleagues"
The bottom line is, for any newcomer to MLM companies the compensation plan and the process may seem rather complex and words like "simply share" are extremely deceiving.
As mentioned previously only around 1% of people who start an MLM business actually make any substantial so if it was really simply wouldn't everyone become profitable?
That being said though lets progress and look at the 5 potential ways you can earn with Seacret;
Retail Customer Commission
VIP and Elite Customer Commission
Team Commission
Leadership Check Match
Performance Bonuses
Retail Customer Commission
When selling to retail customers 1 point will be awarded for every dollar that has been spent by your customer. These can be built up towards free product credit where;
500 points = $15
1000 points = $40
2,500 = $120
VIP and Elite Customer Commission
There are three ways to become a VIP customer;
Accrue 500 points in a 12 month period
First time customers can place a minimum order of $99 to unlock VIP benefits until the end of the year
Customers can enroll in the replenishment program at any time
Becoming a VIP will unlock some extra benefits which include all retial customer benefits, double points for every dollar spent and occasional gifts.
WOW Bonus
The WOW bonus is a retail sales incentive and is paid out on VIP retail customer orders.
Depending on what you are will decide what percentage commission you are paid;
Star through to executive earn a 20% bonus
Bronze and higher ranks earn 25%
Team Commission
The Seacret Team commissions allow you to build a team where you get paid commissions for the entire team as long as you are qualified as an active agent.
In order to qualify you must have 35 personal volume every week and have personally enrolled active agent on each side.
Leadership Check Match

These percentage commissions can be gained by training and helping other agents move up ranks. You can earn up to 4 generations of these commissions at the specified value and "each bronze or above agent down your enrolment tree counts as one generation".
Performance Bonuses
There are rank advancement bonuses available which you will be eligible to gain when you move up each rank.
These seem great although they don't make it clear how hard it will be to progress to any rank so this really dose provide people with false hope.
Fast start bonuses are also available for any person you enrol with one of the agent starter pack sets;

Success Rate at Seacret
Like the vast majority of MLM companies the success rates of affiliates or in this case "agents" is extremely slim.
By selling people a dream of making thousands every month many people are lured into these companies with high hopes of starting their own business and leaving the 9-5.
Unfortunately this is not the case and becoming an agent for Seacret will most likely be no different.
As mentioned previously the loss of people joining MLM companies could be as high as 90% which was discussed in a report published by the FTC.
Seacret do offer products that their customers seem to like and enjoy but the compensation plan makes it difficult to gain enough customer and build up a team to make substantial money.
So as a conclusion, the success rate in MLM companies is extremely low and Seacret is no different.
If you are serious about starting your own online business then there is definitely a far better option available but it also won't be easy!
No Seacret is definitely not a scam and as we found out not quite a pyramid scheme either.
Seacret do not try and part people from there money with nothing in return but I believe they do make the opportunity of becoming an agent seem far better than what it is.
You will definitely be paid in line with compensation plan but they make it seems far too easy to earn a lot of money.
Due to this Seacret might seem slightly shady but they definitely aren't hiding anything that makes their business a scam.
As i said before though there is a FAR better opportunity for making money online that we will get into in a minute.
#1 Method for Making Money Online
Luckily for everyone there is one method that can be used to earn some substantially and sustainable income online and that is;
Affiliate Marketing
Affiliate marketing involving starting your own online business in any niche that you choose. By creating content and writing reviews that rank on google people can visit your website read your content and potentially buy something through your affiliate link.
When this happens you receive a commission depending on what affiliate program you are assigned to and the price of the product.
I won't lie the process takes a lot of effort but process is not challenging and the rewards can be absolutely massive if you persevere.
If you are interested then you can take a read at my post that will give you a good overview of the topic of affiliate marketing.
Recommended Reading