Speed and reliability are two main factors to consider when you want to choose a hosting service for your blog. If your preferred hosting service cannot provide these two things, you could run into some pretty serious issues with your blog.
Aside from the fact that it will slow down your blog resulting in slow loading content, it can also cause major security issues on your blog.
At the end of the day, these issues can crash your blog completely obliterating any chance of earning revenue and greatly reducing your readers satisfaction.
As google considers site speed in it's ranking algorithms it is imperative that your site loads quickly to give yourself the best chance of ranking highly within search engines and generating consistent traffic so you'll be looking for a well rounded hosting service with high speed loading.
You need a fast and reliable hosting service provider to help you get the best out of your blogging career without putting a dent in your budget. Hence, the topic of today; Hostpapa Vs Bluehost – which is better.
Hostpapa vs Bluehost Comparison
Hostpapa and Bluehost are one of the biggest names in the web hosting service industry, and they both offer a range of amazing packages.
If you are looking for the best hosting services for your new blog then you should know that it doesn't get much better than these two.
While they both offer great web hosting services, one seems to have the upper hand in most areas. In this post, I'll put the two providers, Hostpapa vs Bluehost, together in a head-to-head comparison.
So that in the end, you can make your own decision between the two providers and be sure you are selecting the best performing hosting service to start your new blog.
To help you get an in-depth understanding of what the two hosting service providers offer, we will carry out a Hostpapa vs Bluehost comparison under the following headings:
Hosting speeds
Bluehost goes an extra mile when it comes to hosting speeds and general performance. They have a much faster server response and they offer 100% up time which puts them in front of Hostpapa in terms of speed and reliability.
Bluehost offers an average load time of around 0.4 seconds and you really wont find much better than this. Keep in mind that load speeds can vary with many factors including:
What theme you use
How much content is on your website
How well your images are optimised
Plug-ins used
Although Hostpapa is a much faster host compared to some of the hosting sites that are available in the market today, it is quite slow when put side by side with Bluehost.
This could be because Bluehost has a unique and propriety design for server machines. By designing and building its server machines by itself, Bluehost delivers an unprecedented performance that goes beyond the scope of Hostpapa.
In addition to that, all hosting accounts provided by Bluehost are integrated directly with CloudFare CDN. CloudFare is a distributed network of servers that provide many advantages to your new website. Cloudfare helps to optimise load times by storing static content on various data centres globally.
When a user visits your site the website content is delivered from the server nearest the user which substantially increases load times.
Bluehost goes a step further to ensure resource protection, which maintains speed and stability during traffic spikes.
Verdict: Bluehost is superior to Hostpapa when it comes to hosting speeds.
Support offered
This is one of the fuzziest areas in the Hostpapa vs Bluehost comparison; because both hosting sites provide round the clock support to account holders. They go all-out to ensure the utmost convenience for account holders in the event of a technical issue.
Both sites use communication methods such as live chat, email, ticket, and toll-free phone, for their customer support.
It doesn't matter which communication method you use, you'll get a prompt and effective reply for your query. They also keep a knowledge base, where frequently asked questions and solutions are archived.
Over and above that, they both offer free tutorials to account holders that are trying to wrap their heads around blog site hosting.
Both Bluehost and Hostpapa use MySQL and PHP for their scripts, making them 100% compatible with most website. You can use the building tool's provider by both hosts, to move the components of your website around during creation.
Verdict: Hostpapa takes the lead in this area, as it outfits users with great DIY support and tutorials.
Server location
Datacenter and server location is another grey area in the Hostpapa vs Bluehost comparison. They both have their servers located in the Americas, and they both market their websites to other countries around the globe.
In general, Bluehost servers are located in Provo, Utah, in the United States of America. Hostpapa servers, on the other hand, are located in Toronto, Canada, North America.
While the two seem to have equal strength with regard to server location, Hostpapa goes extra miles in terms of physical presence.
They have their point of presence (Pops) in North America, South America, China Mainland, Africa, Oceania, Middle East, Europe, and Asia pacific. On the whole, Hostpapa is present in over 100 cities and over 50 counties across the globe. Which is more than we can say for Bluehost.
Verdict: Hostpapa is the winner in terms of server location and point of presence.
Security
In general, Hostpapa takes pride in the topnotch security tool's it provides for its websites, but what you get is nothing compared to what Bluehost offers. Hostpapa's security tool's come second place when put side by side with Bluehost.
They go the extra mile in this area to provide everything from DDOS protection to free WordPress security certificates.
On top of that, Bluehost leverages IMAP and POP3 to protect users' emails from spam. But that's not all. In addition to the above-mentioned security measures, Bluehost also provides a monthly, weekly, and daily back-up service of its blog sites. If you have made changes that you are not comfortable with, you can retrieve your previous settings in one click.
Bluehost also provides security for your ports, IP addresses, and enables SSL for connection encryption between the servers and the audience.
With Bluehost you will also receive domain privacy on even their cheapest plans. This feature ensures your personal information linked to your domain is kept private to prevent hackers (or anyone) from finding and using any of your personal details.
Verdict: There is no debate here, Bluehost trumps Hostpapa in terms of the security tool's and safety measures.
Downtimes
Downtimes are another area in the Hostpapa vs Bluehost comparison, where Bluehost shines. Truth be told, both of these hosting providers don't have an up time guarantee, and they don't offer compensations for unexpected or prolonged downtime of their servers.
However, Bluehost's speed and overall performance make it a much better choice in this area compared to Hostpapa.
Verdict: When it comes to downtime and maintenance, Bluehost is the preferred hosting service provider.
Domain Registration
Both providers host multiple domains, and they charge comparable costs per year of registration. Bluehost shines in this area because it provides multiple domains on all packages including its starter plans. Hostpapa, on the other hand, does not provide multiple hosting on its starter plans.
Verdict: Bluehost bags the award for Domain registration
Pricing
Both of these hosting services are indeed renowned for their cost-effectiveness and their affordable renewal fees. But Bluehost gaps Hostpapa by a mile; when put head-to-head against each other.
Normally, Bluehost charges $7.99/mo for its web hosting, but this price has been heavily discounted to $2.95/mo, making it one of (if not) the cheapest web hosting services on the planet.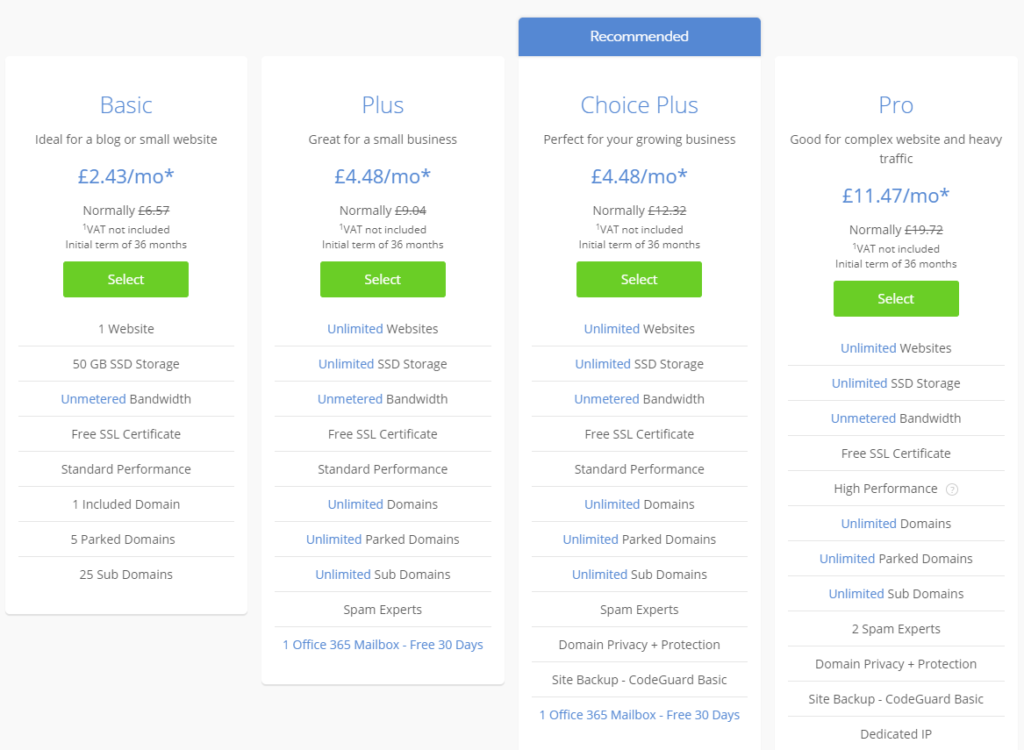 Hostpapa, on the other hand, charges $9.99/mo for starters, and $24.99/mo for its premium packages. Like Bluehost, Hostpapa offers its starter plans at $3.95/mo cut-rate. But that is still a lot higher than Bluehost's offering price.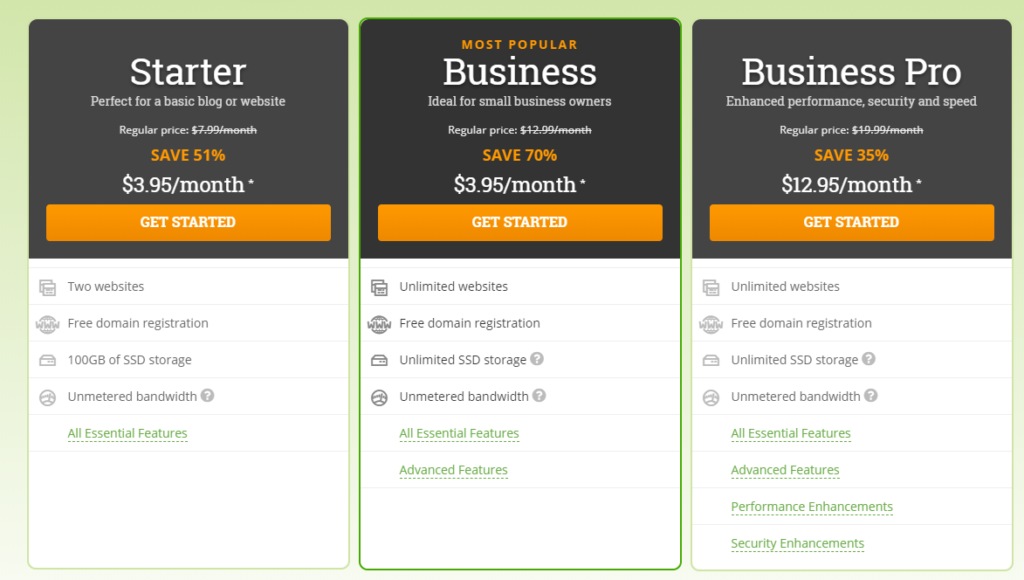 Verdict: Bluehost is the winner in terms of pricing
Money Back Guarantee
Money back guarantee is a topic in which Bluehost and Hostpapa draw even. Both hosting providers offer 30 day money back guarantees allowing you to try out their features and hosting speeds with no risk what so ever.
The money back guarantees will allow you be refunded for any money spent hosting your new website but keep in mind that you will not be refunded for any domains you have purchased through the hosting platforms or any add-ons you have paid for.
Verdict: Has to be a draw on this one.
Extras offered
Aside from the major packages that both providers offer, Bluehost offers a ton of features that you probably won't find on Hostpapa websites. For instance, they offer;
Free CloudFare CDN service
Personalized IPs for your Website
Multi-server management
POP3 and IMAP protection for emails
Free Site back-up services
Verdict: Bluehost wins again.
Final verdict
After carefully considering the ton of features that both of these web hosting providers offer, we conclude that
Bluehost Wins
and is a much better choice than Hostpapa. It is cheaper, faster, safer, and more reliable than Hostpapa. On top of that, it offers a ton of features that'll probably won't find anywhere else. Now that you've chosen the best hosting provider for your new blog surely you will be wanting to monetize your new blog and start making some extra income? One of the best ways to do this is through affiliate marketing and you thankfully for you I've found THE best affiliate marketing training platform to teach you how to make your first dollar (and many more online). Have a read at my wealthy affiliate review and get started now.