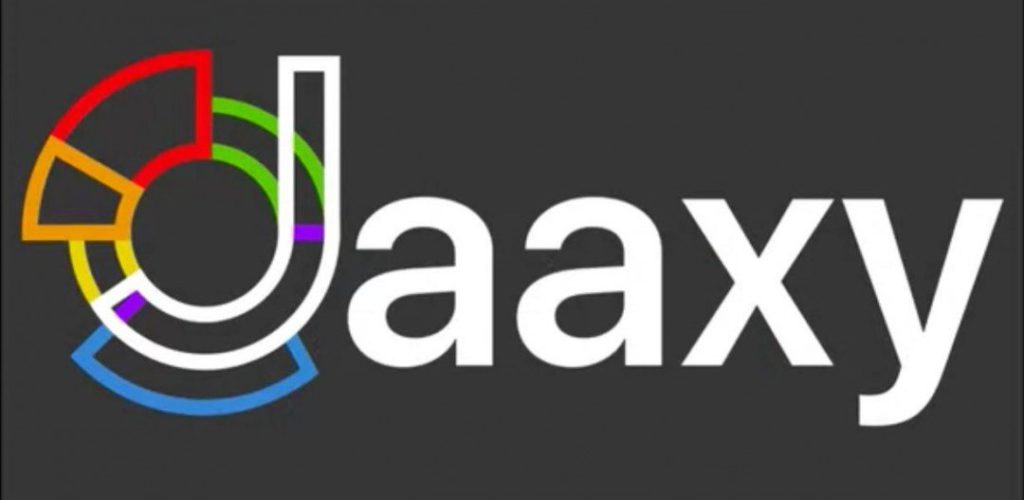 There's no doubt that keyword research is at the forefront of all content marketing strategies. If you fail to find a low competition with reasonable searches per month you really are just taking a stab in the dark and hoping you will at least rank for a few keywords. With the amount of competition online today this just doesn't cut it anymore.
The chances are you have been looking for an accurate easy to use keyword research tool and have seen Jaaxy mentioned many a time and you are looking for some extra information on the keyword research tool. Am I right? Well you are in the right place, In this post I am going to cover exactly what the Jaaxy keyword research tool is and how you can utilise it to substantially increase your website traffic with good old keyword research.
What is Jaaxy?
Jaaxy is an extremely easy to use and accurate keyword research tool that includes many features to help you find keywords that will bring you the most traffic and also provides features to research you competition to give you the best chance of outranking them.
Jaaxy can be used in your browser and it requires no downloads what so ever so you can start your keyword research right away.
Although you will most likely know the topic in which you what to write a post on, by using an advanced keyword research tool such as Jaaxy you can find different variations of keywords relevant to your topic to find a keyword with the highest searches per month and of course the least competition.
Jaaxy utilises data straight from google and analyses it against it's own metrics. Jaaxy keyword research tool is created by affiliate marketers for affiliate marketers and is created by the founders of wealthy affiliate which is the leading affiliate marketing training program online today, but that's another story.
That being said though Jaaxy can be utilised effectively by anyone that owns their own blog. With Jaaxy you can rapidly asses keywords and make a split-second decision if the keyword is worth targeting by providing metrics such as;
monthly searches on google
the traffic you should expect to see if you rank on the first page of google
Quoted search results (QSR) the amount of existing posts on google that rank for this specific keyword
Keyword Quality Indicator (KQI) an indicator taken from monthly searches, QSR and other variable to give you a quick indication of how tough the competition is for this specific keyword
SEO score which gives you a score of 0-100, with 100 being the best, of how likely you will be to rank on the first page of google with a high quality post ranking for this keyword.
This only covers the basic keyword research feature on Jaaxy but that's not all you will get with a membership to Jaaxy. In the section below I am going to outline all the features you can use within the tool to help research keywords to give yourself the best chance of ranking on search engines and gain more organic traffic to your blog.
Jaaxy even offers a free trial membership where you can perform 30 keyword searches to give you a feel of this great piece of software. By giving the free membership a go you really have nothing to lose.
Jaaxy Features
Keyword Search
I've already spoke a little on the main section of Jaaxy and what metrics it will provide you with but I'll go into a little more detail and show you exactly how you can utilise this powerful feature and what metrics you should be looking for when deciding on a relevant keyword.
So for example I will talk you through the steps I have taken when selecting a keyword for this post. I already knew I wanted to write a post surrounding Jaaxy as I have been using it for over a year now to help me select relevant keywords with decent search volume and the least competition possible.

When you log on to your Jaaxy account you can easily find the main keywords research feature by selecting the search tab at the top of the page and then selecting the "keywords" secondary tab underneath. This is where you will enter the keyword you want to find information on. As I knew I wanted to write a post on Jaaxy I started by brainstorming potential keywords such as:
Jaaxy Review
What is Jaaxy?
What is Jaaxy keyword research tool
Is Jaaxy a good keyword research tool
These are only a few examples and I actually had around 20 variations that I was going to try to see which one would give me the best chance of ranking with the least amount of completion.
"What is Jaaxy keyword research tool came out on top and I will show you a few examples as to why I came to this conclusion.
The first keyword we can check is "Jaaxy Review":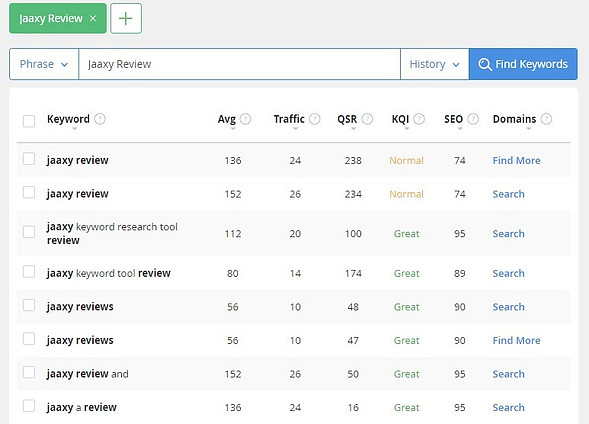 A search on Jaaxy literally takes seconds and provides you with very valuable information shown above that you can usually make a very quick decision on if the keyword is worth focusing a post on. As you can see the QSR for the search term "Jaaxy Review" is rather high at 238. That means that there is already 238 posts ranking for this specific keyword on google.
This immediately turns me away from this keyword as I usually aim for under 100 and preferable under 50. If you have a new site the chances are it will be very hard to outrank 238 sites and make it to the first page of google. If you're not receiving traffic what's the point in blogging?
You can also see the average monthly searches are nothing special for this keyword and considering the high completion it's definitely didn't seem worth fighting for.
To show you another example of keywords I tried when selecting the keyword for this post we can take a look at "What is Jaaxy":
The average monthly search was far greater for this keyword but with a QSR of 100 I decided to try another few to find something a little lower than this. Don't get me wrong a QSR of 100 is pretty good but as this site is still in the early stages I decided to look for something a little lower in the hope I could rank on the first page of google.
Just because you are specifically writing an article targeting a selected keyword this does not mean you will not rank for many other keywords. I have written articles on a researched keyword that have ranked on page one for unthought of search terms plenty of times.
The last keyword we will look at is "What is Jaaxy Keyword research tool":
Traffic is much lower for this search term but as the QSR is also far lower I decided to opt for this search term as my main target. As I said a post will still have plenty of potential to rank for other keywords so you never know I might still rank for "What is Jaaxy" with higher searches per month.
As you can see when you enter a search term Jaaxy will provide you with other relevant search terms you can choose from. This will give you hundreds of keywords to choose from with just a few simple searches.
A lot of keyword research tools are rather inaccurate and this is one thing Jaaxy excels in. By providing us with accurate data straight from Google we can make far more accurate decisions in our keyword selection.
Alphabet Soup
The alphabet soup feature is a great addition to your keyword research and allows you to enter any keyword where the system will generate new near infinite keyword ideas. Alphabet soup works by using your entered keyword with a word beginning with a all the way to z. So for example is we use the keyword "mechanical keyboard" you will be provided keywords such as: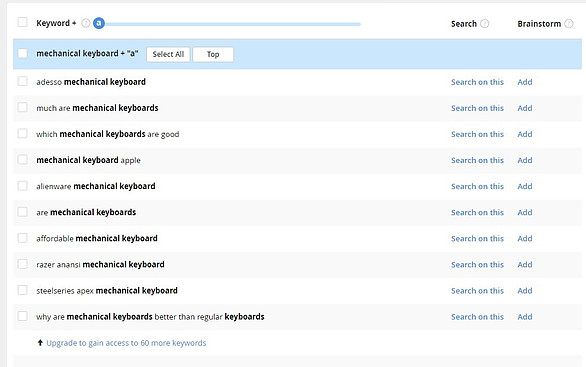 Keywords will be suggested in this format for every letter in the alphabet so
mechanical keyboards + "a"
mechanical keyboards + "b"….
mechanical keyboards + "z"
From the alphabet soup feature you can easily click the "Search on this" link to perform a keyword search and provide you with all the metrics of the keyword search feature. You can also use the "Add" link to add specific keywords to the brainstorm list but we will talk about the brainstorm feature further through the post.
As you can see alphabet soup can be an excellent method for quickly generating long tail keywords that you wouldn't otherwise think of. Thousands of potential keywords will be provided in seconds so finding a winner in the list shouldn't be overly difficult, but maybe a little time consuming.
Search Analysis
When conducting keyword research you should not only be looking for a keyword with high search volumes and low competition (QSR). There is also many other metrics you should consider to give yourself the best chance for ranking on the first page of google. With the Jaaxy search analysis feature you enter a keyword and are provided with the top ten or twenty pages ranking for this keyword (depending on what membership you have). With this feature you can check metrics such as:
Word Count
Links on site
Backlinks pointing to site
Alexa ranking
Meta Description
Meta keywords
These metrics allow you to research the competition for your chosen and gives you plenty of insight into what your competitions are doing. When I use the search analysis feature in my keyword research I look to always write more than the competitors and I also take into consideration how many backlinks the site has.
This will show you how "authoritative" your competition is in your niche for selected search terms and if you will have any chance of outranking them as websites with higher backlinks generally will rank higher in search engines. Also, by checking out your competitors meta description you can see what types of posts google is ranking for that specific keyword.
Although the search analysis feature provides you with a value of how many backlinks the site has it fails to give you a domain or page authority score from Moz which is usually what is used to determine if the site is an "authority" and if they will have more chance to rank higher. That being said though the more backlinks a site has then usually the higher their domain authority score will be so you can use these metrics as a rough guide.
Site Rank
This is another great feature within Jaaxy and something I use a LOT. The site rank feature on Jaaxy allows you to check where you rank for specific keywords on Google, Bing and Yahoo. This is an extremely valuable feature as it allows to quickly check your rank for keywords and even allows you to track your keyword to monitor if it is increasing or decreasing in the search engine rankings.
All you need to do is type in a keyword and enter the URL and you can check if your website (or another website) is ranking in the top ten on Google Bing or Yahoo. You can use the track feature where Jaaxy will automatically check the ranking of tracked keywords daily, twice a week, weekly, twice a month or monthly. This will allow you to monitor if you rankings are increasing or decreasing and gives you more long term look at how good your rankings are.
Keyword List
The keyword list feature is exactly what you would expect. The list feature allows you to save keywords into manageable lists to keep yourself organised and gather many keywords before writing posts.
Here you can see an example of a few of the lists I have created within the Jaaxy platform. You can choose the options to export lists as CSV (Excel file) with either just the keywords within or with all the data from Jaaxy. You can also export as a txt file if you would like to keep your keywords stored elsewhere or share them with someone.
This feature is pretty standard for keyword research tools but provides a good way of managing keywords with all their attached metrics so you don't forget about keywords when going to write a new post. I am constantly adding keyword ideas to these files before I go into further detail with my keyword research.
BrainStorm
The brainstorm feature is something I personally barely use within the platform but I'll give you an overview of what it is anyway in case you feel it would be useful to. The brainstorm feature within Jaaxy provides lists of popular and trending keywords on major websites such as Google, Amazon, Twitter and Yahoo. The chances are these topics won't be relevant to your niche so the chances of finding keywords to write posts on here is pretty slim. That being said though if your niche is within News, TV shows, technology or politics you might be able to find some useful keywords.
Affiliate Programs
As Jaaxy was created by affiliate marketers for affiliate marketers it's no surprise that their is an affiliate programs section. By entering a keyword can search large affiliate providers such as:
Clickbank
Commision Junction
Linkshare
Digital River
By entering a keyword you will find affiliate programs relevant to this keyword. So for example by entering "mechanical keyboard" you will find affiliate programs you can use to promote mechanical keyboards. You will also be shown what percentage of the sale you will earn back as commission if you decide to opt for one of these affiliate programs which allows you to find the highest paying programs quickly.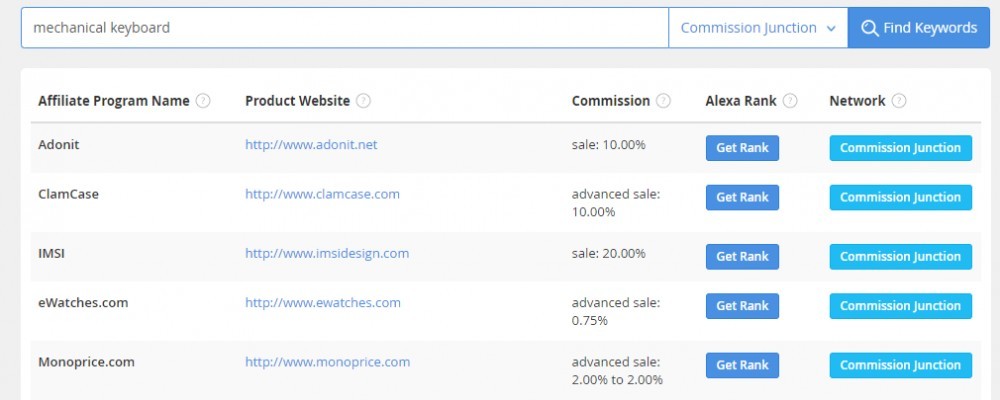 How much does Jaaxy Cost?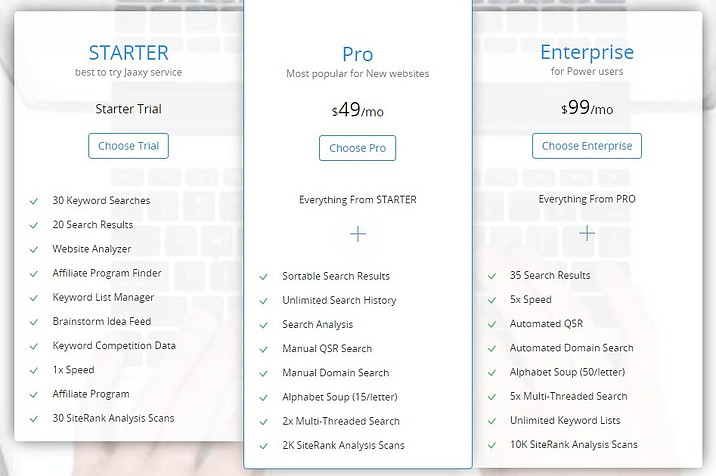 It should be no surprise that a keyword research tool as good as Jaaxy comes with quite an expensive price tag. I believe that Jaaxy is truly worth the price tag as it provides you with the relevant tools and features to find keywords that you can actually rank for.
If you fail to use a comprehensive keyword research tool such as Jaaxy then you are most likely wasting your time writing blogs and severely reduce your chances of ranking for keywords and gaining any traffic to your website what so ever.
One of the main perks of Jaaxys pricing plans is that you can opt for the FREE starter membership. This provides access to plenty of features that you can see in the picture above to give you an in-depth look around the platform to see the extent of the value offered.
Access to Jaaxy with wealthy affiliate premium membership
Now what if I told you that you could get access to all of Jaaxy's features with a membership to wealthy affiliate that is actually cheaper than a pro membership?
With a membership to wealthy affiliate you will gain access to the world leading affiliate marketing training platform where you can become part of a community of millions of users learning and implementing the skills it takes to become a successful affiliate marketer and start earning some extra income online from home.
With a wealthy affiliate membership you will receive:
Hundreds of hours of affiliate marketing training videos to show you how build a new website from the ground up
Jaaxy Lite membership which will provide you with all the feature discussed in this post
Weekly webinars from a seasoned expert in affiliate marketing. There is currently over 353 hours of extra training with a new webinar added every week
A welcoming and helpful community of users
Extremely fast hosting for up to 50 websites
Much more
If this sounds like something you would be interested in you can have a read at my wealthy affiliate review which will explain exactly what wealthy affiliate is and why everyone looking to start an affiliate marketing business should sign up for their membership.
Should you try Jaaxy?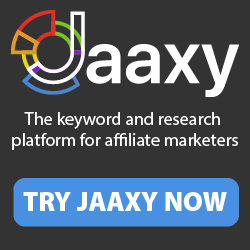 I'm sure you will now have a good understanding of what Jaaxy keyword research tool is so that brings us to the question of is it worth the money? In my opinion yes Jaaxy is definitely worth the money as it provides all the tools to find the perfect keyword for your blog posts. With Jaaxy keyword research tool you can search for hundred of relative keywords in minutes and have the tools on hand to quickly analyse your competitors and select a winning keyword. If you are still unsure then I'd definitely recommend giving the free membership a go or even considering signing up for wealthy affiliate to gain access to the software with many valuable features for new or experienced affiliate marketers.