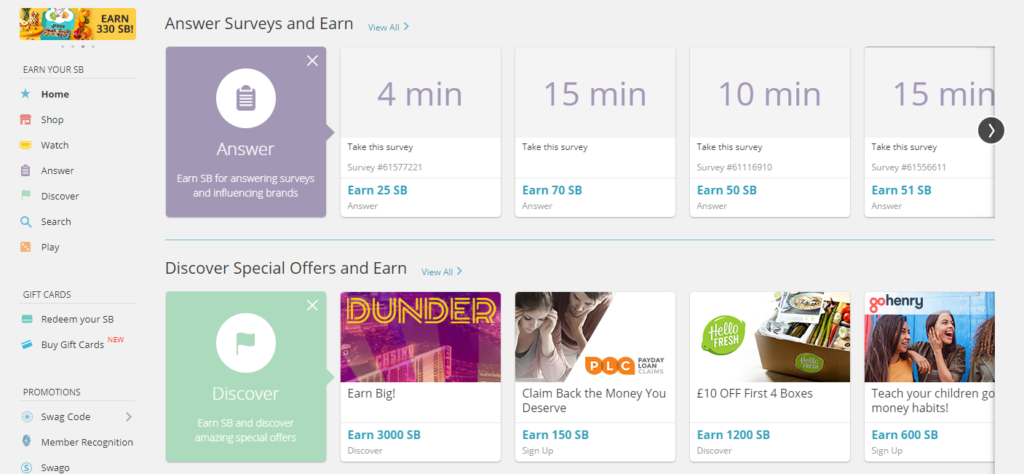 How good would it to be to do nothing all day other than sit on your couch and watch videos, complete surveys and play games while getting paid?
Sounds too good to be true right? But what if I told you its not and there is actually websites out there that will pay you for watching videos as well as other things such as playing games taking short surveys and even receiving cashback on purchases you would be making anyway.
Yep it really is a dream come true. In this post I am going to focus on Swagbucks which is one of the most popular websites in which you can visit to start earning some extra cash in your free time without even leaving the couch.
There are many posts out there that will tell you what Swagbucks is and how to use it but I am going to take this one step further and try it for myself and answer the main question of how much money can you earn on Swagbucks.
I am going to use Swagbucks in my free time for four days to see how much money i can build up and also to give you an overview of the best features and the ones to avoid.

Day 1- Finding the features that provide the best returns
On day 1 I signed up for Swagbucks which was an extremely easy process and literally took me less than 5 minutes by simply entering my name and email address.
I was then given the option to complete the set-up survey which only took a few minutes asking general questions such as your age and relationship status.
This gained me 5 SB which is the currency you will build up which can then be used to redeem rewards such as amazon vouchers and even cash payed into PayPal.
I also received another 5 SB for verifying my email which took me to a total of 10 SB for around 10 minutes of my time.
To put this into perspective it costs 800 SB to redeem a 5 GBP gift card. Not overly impressed at this point but this is only the beginning so let's see how we get on.
On my first day on Swagbucks I am going to spend at least an hour familiarising myself with the platform and what it has to offer.
The first thing that jumps out at me is the features deals at the top. These offer on average around 1000 SB which would amount to more than £5.
The options here vary massively, you can gain 1500 SB from downloading "Vikings: War of clans" game app and reaching level 12. Seems pretty easy if you ask me but we'll get back to that soon after I have more of a look around the website.
There is a watch feature available which will play 4 short videos that allows you to give feedback on what you have watched by clicking a thumbs up or down icon in the top right of the screen.
These take around 4 or 5 minutes to complete and you are rewarded with only one SB. After taking ten minutes to complete two of these and only receiving 2 SB I think ill be avoiding this feature moving forward.
That being said these videos could be allowed to play in the background when you are doing something else so I suppose these could add up over time.
The shop and earn feature really stands out at being one of the best ways to earn extra SB which is basically just cashback on purchases on websites such as ASDA Groceries, Just Eat, Asos, Tui Holidays, EBay and many more.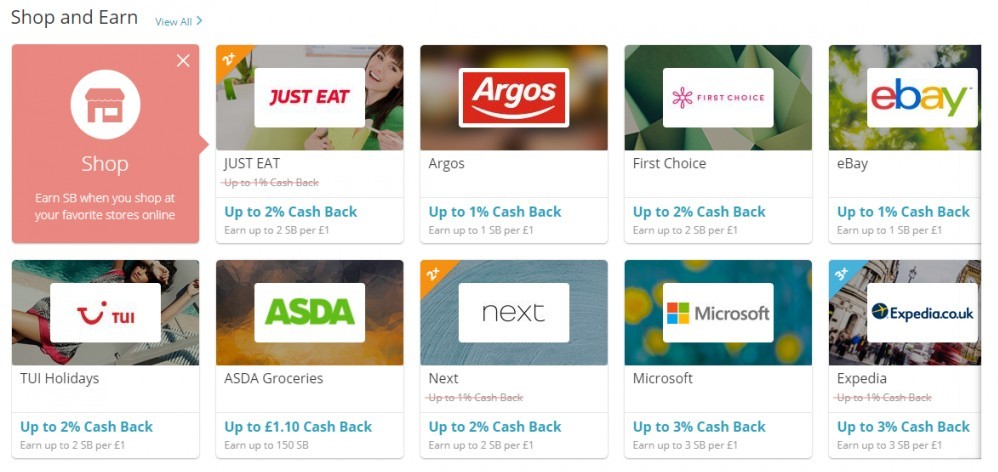 It is easy to see how your Swagbucks could build up quickly if you shop online using the Swagbucks links but at the moment I am not looking to buy anything from these websites.
One of the main features on Swagbucks is the survey feature. Here you can find around 35 surveys that update regularly that can be completed to earn anything from 20 to around 100 SB.
The time taken to complete these surveys vary from around 5 minutes up to 25 minutes with the amount of SB increasing the longer it is supposed to take.
To give this a quick test I opened one the surveys that said would pay 25 SB for 10 minutes of my time. I completed around 5 minutes of the survey and it was indicated that for me to receive the Swagbucks I would need to opt into sending pictures and videos and be involved in some testing for up to two weeks.
For a total of 25 SB I didn't want to commit myself to this so I clicked no and was taken back to the Swagbucks home screen and awarded 2 SB.
Although this survey didn't work out i definitely won't be disregarding the survey feature just yet.
Swagbucks offers their own games which you can play to earn around 10 SB. I played the "Swagasaurus Run" game for around ten minutes and received not one SB so this will be another feature I would avoid if you want the best return for your time spent.
I tried out the search feature which allows you to search the internet through Swagbucks and wasn't expecting anything in return for one search but I was wrong. With one search I earned 20 SB which is not too bad at all for 10 seconds of my time but another search provides no SB so its possible this can only be done once a day.
After taking around an hour to search through the website and try to find the best ways to earn Swagbucks its evident there is a good few ways that don't reward very well with the amount of time spent. In my opinions these will be things you want to avoid if you want the best return on the time spent.
Moving forward I will be avoiding the watch and play features available.
Right now we have a decent understanding of what Swagbucks provides its time to start actually earning some good returns for our time.
The thing that still jumped out to me is the 1500SB offered for playing "Vikings: War of clans" game to level 12 and I might actually get some enjoyment out of it so let's give that a go. I entered my email to receive a download link and downloaded the game on my iPhone.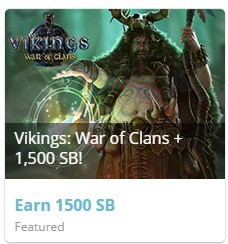 Over the next four days I will come back to the game to gradually level myself up to level 12 to collect the 1,500 SB.
In total I spent around an hour and half with most of the time spent familiarising myself with the Swagbucks platform so in total only earned a total of 43 SB so I am still miles off earning my first £5.
That being said I believe this platform has a lot of potential for earning some extra cash over time if you are willing to put some of your free time into it.
Tomorrow I will be spending all of my time on the features I believe give the best return for your time.

Day 2- Earning enough for my first reward
As you can see Day 1 was not overly impressive at all with only 43 SB received after around an hour and half spent on the platform.
Today I want to make sure this changes as I am far more familiar with the platform and where I should be looking for some better returns.
I've decided in my extra free time I am going to concentrate on the survey section of Swagbucks to see how well that pays.
The first survey completed asked about stores I would or have visited to buy hobby supplies and books and took a total of around ten minutes to complete and I was awarded 25 SB, not too bad at all.
Instead of boring you with all the details of the surveys I have taken I spent another hour completing different surveys and in the end received 160 SB for around an hour of work.
I completed the requirements to receive the 1500 SB from the game I downloaded which took me to a total of 1,683 SB at the end of day two. It seems that downloading and completing the requirements on the features games could be an extremely good way to build up your SB quickly and you might even enjoy playing the game.
Day 2 was a good day in terms of earning but the majority of this came from one source. If you are considering giving swagbucks a go to earn some additional cash or vouchers I'd definitely recommend looking for the app download offers and completing the requirement to get some more serious returns.
The SB will build up by doing surveys but the return on your time is nothing great with the maximum you will receive is around 120SB for a 20-minute survey.

Day 3 – Going after the big rewards
Lets get started on day 3, I don't have as much free time today so I am going to go for the maximum returns for the little time that I have.
Swagbucks offers rewards for using their search engine so today I am going to use their search engine for all the time spent on my computer today to hopefully build up some extra SB from doing effectively nothing different.
An offer that stands out to me is the features opportunity for "Gala" a bingo website that is available across the world.
The requirements state it needs to be a new account and I will need to deposit and gamble £10.
This may seem counter intuitive when I am trying to earn some extra money but since I will earn 2500 SB which will amount to 3 £5 amazon gift cards with 300 SB left over this offer definitely seems worth it to me as profit is made.
Who knows I might even win some extra money.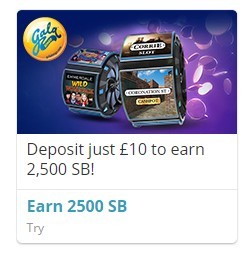 Today I noticed there was another featured game that I can install and complete the requirements to earn an extra 1000 SB. Considering earning 1500 SB from the first app download was rather simple I've decided to give this one a go as well as it definitely seems like one of the best ways to see returns on the platform.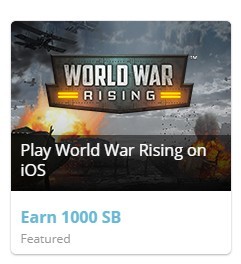 Today I avoided the surveys and other features that don't reward well for your time and spent my time on the offers I have discussed above.
I signed up to "gala" and deposited and gambled the £10 requirement so the 2500 SB will be awarded within the next 7 days.
I also downloaded and started playing the app. This should pay 1000 SB once I have reached the required level which could take a few days.
Unfortunately today my total SB hasn't official increased at all as some rewards can take up to 7 days to be paid out. So the total Swagbucks is the same as yesterday.
Day 4 – Cashing in
So we've made it to the final day of this test. So far the returns for my time spent haven't been great but there definitely is money to be made with Swagbucks and it definitely far from a scam.
Today I am going to spend some time completing some more surveys and searching for anymore "featured offers" that offer a decent return and then cash in the Swagbucks I have built up over the past few days to show you what you can expect to receive.
I am also continuing to play the app that I started yesterday to try to receive the 1000 SB offered to redeem another £10 amazon voucher for essentially doing not a lot at all.
I was planning to do some shopping on ASOS.com and checked to see if there was an offer on Swagbucks for this and surprisingly there was an offer that will allow me to receive 1 SB for every pound spent. I spent £60 so I am hoping to receive 60 extra SB in the next few days.
Unfortunately I have still not managed to complete the requirements to earn the 1000 SB from the second app I downloaded yesterday so this won't be included in our final total.
The 2500SB offered for depositing and playing with £10 on "Gala Bingo" was credited today so this will be included in our final total.
After spending another hour today completing surveys the final total for the past 4 days has come to 4,189.
So now the fun part, cashing in the Swagbucks I have earned.
There is a handful of rewards you can choose from but the main options are gift cards for a selection of stores such as
amazon, M&S, and Argos.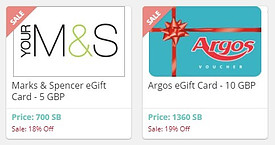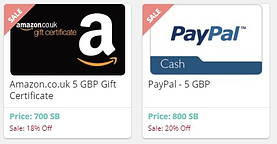 You can even receive cashback paid straight into your PayPal account but as you can see this comes at a slightly higher cost than the gift cards.
There is even an option to donate your SB to charity with 1 SB having a value of £0.01. This is an extremely good way to earn some extra donations for great causes in your spare time if you don't have the disposable income to donate from your monthly salary.

So the total earned stands at 4,189 SB so I have decided to buy 4 £5 amazon gift cards and donate the remaining 1,789 to
"The Breast cancer Research Foundation" which amounts to £17.89.
Final verdict

So I'm sure you're now ready to hear what my final verdict on Swagbucks is right?
Well to be completely honest I feel there is a lot of features on Swagbucks that generally are not worth you time in the slightest.
For example the watch feature pays only 2 SB for around 5 minutes of your time so this is a feature I would definitely be avoiding in the future and I believe you should too.
The play feature is also rather useless unless you actually enjoy playing the games. As I said in day one I tried one of the games where it said up to 10 SB could be won and received absolutely nothing for ten minutes of my time.
That being said Swagbucks definitely has the potential for earning some extra income in your spare time and there is a good few offers that will reward you well.
The best way I found to earn SB was to jump straight to the featured section and download and play the apps as these seem to reward you the most.
Swagbucks can also be great for redeeming the cash back options on shopping you would already be planning on doing and there's is loads of stores to choose from so chances are you regularly shop at some of these stores anyway so you really have nothing to lose.
Another good method for gaining Swagbucks is to replace the Swagbucks search engine with whatever you are currently using. This allows you to gain SB from your usual internet searches throughout the day.
So my final verdict is yes Swagbucks can provide you with some extra income but it will take you a long time to see large amounts of cash.
Swagbucks is definitely far from a scam and as of the time of writing this post they have paid out a massive £213 million so why not take your chunk of this massive figure?

If you are now ready to give Swagbucks a go and earn some extra money for yourself then click the button below to visit the Swagbucks websites. Alternatively, if you don't feel Swagbucks is for you and you want to start earning some more life changing income then have a read at our post that will highlight a few of the ways you can earn good money online.
I hope you have enjoyed this post and if you have any questions leave a comment below and I will get back to you as soon as possible.